Salads have countless health benefits. Fresh greens and vegetables are great for your hair, skin, and overall health. But you probably knew about these reasons, right?
These reasons are not enough to convince you to eat salad, especially if you're a food enthusiast who lives for taste. But what if we told you that there are statistics that will push you to eat salad regularly, if not every day?
With these six research-backed reasons, you'll not only be convinced to eat salad regularly, but you'll look forward to it. Let's explore them below:
Rich in Fiber
Salads are rich in fiber which helps regulate your bowel movements and also makes you full. Although raw vegetables and greens are rich sources of fiber, you can also add corn and beans to increase the fiber content.
When you add sufficient fiber to your diet, it offers the following:
Controls blood sugar levels
Aids in digestion
Ensures healthy weight management
Lowers bad cholesterol
Prevents many cancers, including esophagus, throat, mouth, breast, colorectal, etc.
Cut Down Calories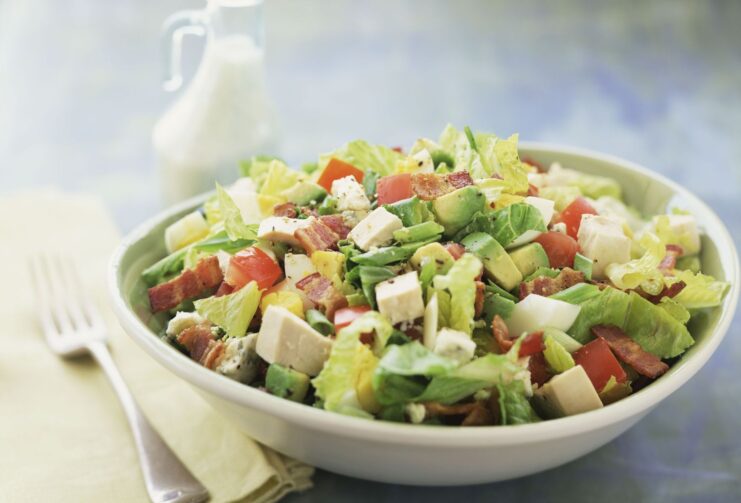 If you want to cut down calories from your diet, there's nothing better than a leafy green salad. Just ensure to add raw vegetables with a low caloric count, and don't add salad dressings.
For instance, a 300-gram cucumber has just 45 calories. But you can't just munch on cucumbers. You'll grow tired of eating only cucumbers as a salad. To shake things up a bit, try this Thai cucumber salad recipe.
This simple recipe is packed with flavor (from garlic and honey) and good fats (from peanuts and sesame oil). So, you're not just getting the salad's high-fiber, low-calorie benefits. You're also saving time, getting a delicious meal that makes you feel full while reaping all the benefits of honey, garlic, and nuts.
Nutritional Benefits
We know that fruits and vegetables are essential for a healthy diet. But it's good to be reminded of this time and again. Let's see the benefits of consuming a diet rich in vegetables and fruits as researched by reliable sources:
It helps prevent certain kinds of cancer
Lowers the risk of digestive problems
It prevents blood sugar from rising, which helps curb hunger
Leafy greens ensure a healthy weight
Reduced risk of cardiovascular disease by 4%
Helps control blood pressure among chronic patients
Apples, oranges, kale, and grapes help lower the risk of breast cancer
Numerous studies support that salads made from fruits and vegetables are a rich source of nutrients, including vitamins, minerals, and antioxidants.
So, with a salad bowl, you can have all the vitamins your body requires to fuel up for the day. Make sure to add different kinds of fruits and vegetables to your salad to amp up its nutritional value and make the most out of a small salad bowl.
Salads are Tasty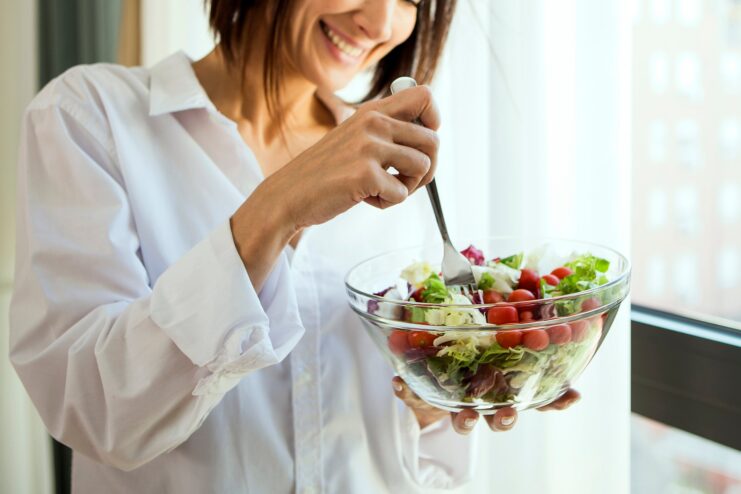 Apart from the health benefits of salads, they are also quite delicious. Plus, you can experiment with different nuts, seeds, natural dressings, and vegetables to enjoy a new taste every day.
A common mistake is adding cooked or processed foods to salads. While doing so might add texture and flavor to the salad bowl, it isn't healthy.
Some of the seemingly healthy ingredients are:
Deli or frozen processed meats (rich in preservatives and sodium)
Cheese with full-fat content (high saturated fat and salt)
Candied or salted nuts and seeds (trans fats that raise cholesterol levels)
Croutons (high sodium content)
These ingredients add unhealthy fats to your salad. So, they must be avoided or used sparingly.
Here are some natural dressing options that you can use to make your salads tasty and healthy:
Toasted seeds
Dry-roasted nuts (not salted or candied)
Apple cider vinegar
Honey
Garlic
Sesame oil
Olive oil
Likewise, you might be tempted to add some dressing. When you head to the dressing aisle, you will see several salad dressings you can choose from. While these dressings add flavor to your salad, you must choose wisely. There are a lot of dressing options that aren't healthy. Plus, they make your salad rich in calories, killing the purpose of it.
Choose a dressing that has low-calorie content and HPOB. Many low-calorie salad dressings mention it clearly on the label. Adding them to your salad might increase the calorie count minimally while enriching it with other nutrients.
Curb Cravings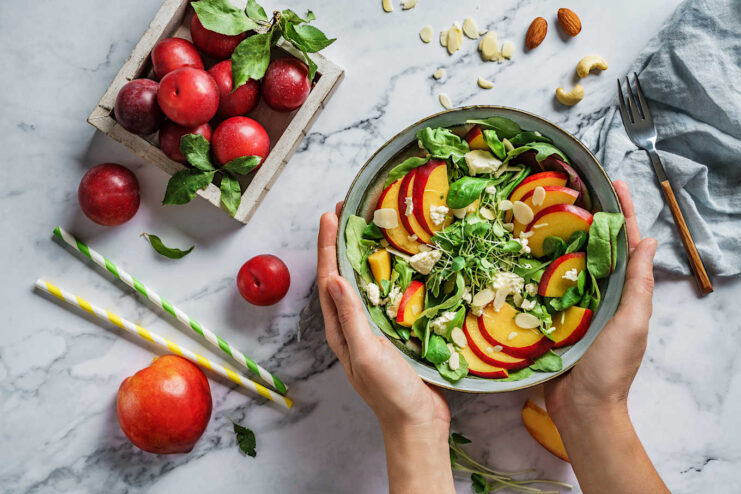 Even though salads are light, they can make you feel full without feeling bloated. Because salads are packed with fibers and nutrients, the fullness will curb your cravings for fried or sweet foods.
If you want to experiment, eat a salad bowl 30 minutes before lunchtime. You will see a considerable difference in your appetite and wouldn't go towards unhealthy food options. According to research, consuming salad before meals reduces the overall caloric intake by 11%.
Since salads are low in calories, you can eat them whenever you want. You can also eat an unlimited amount of salad without worrying about the caloric intake, given that you have not added unhealthy ingredients to the salad.
Quick and Easy to Make
One of the best things about a salad is that they're quick and easy to make.
Sure, they aren't as quick as opening a bag of chips whenever you feel hungry, but they take less time than meals prepared on the stove. You can always add green beans to your salads from a can and pre-marinade your chicken to add in. You could keep the chicken cooked and ready to add cold to the salad without heating it.
Once you are used to the taste and the light feeling of eating salads, you'll want to eat them every day.
Conclusion
Salads are a must-add to your diet because they are packed with fibers and help cut down calories. But that's not the only thing. Salads are also a great add-on to one's diet because they're easy to make and can allow you to add nutritious and tasty ingredients. Above we've shared all the reasons why you should eat salad regularly.
All the claims in this article are research-backed. So, the next time you head to the kitchen for a snack, consider the health benefits of salads and the convenience before making your pick.
If you are a fan of potato salad and have made too much to consume in one day, read our article about preservation methods for potato salad. Learn how to save this delicious dish for later enjoyment!